Gold Mine Discovered in Union District
"A Gold Mine has been discovered in Union District, South Carolina, in the waters of Tyger River. The ore is said to be of such extent as to afford employment to 500 hands at good wages. A speciman of the gold has been pronounced by Dr. Cooper, equal in purity to say he ever saw. A company is expected that the members of the company formed to work the gold mines of North Carolina, have divided each $3000." Source: Southern Recorder, Milledgeville, Georgia August 13, 1827.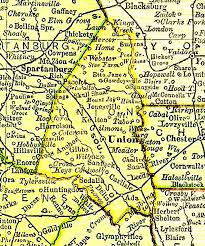 Need to know if your ancestors left a will or estate record? An easy, quick (and free) way to find out is to click on the links below.

County Records of 8 Genealogy Websites
Alabama
Georgia
Kentucky
North Carolina
Virginia
South Carolina
Tennessee
---

BUNDLE RATE for 8. Access to all eight websites plus additional data in other States: Bibles, genealogies, civil war records, colonial records, marriages, wills, estates, special collections, books written by renowned Georgia genealogist Jeannette Holland Austin.
Membership to 8 Genealogy Websites - Reoccurring subscription with guaranteed low rate
REOCCURRING SUBSCRIPTION WITH PAYPAL = $150 per year. Guaranteed low rate so long as your subscription continues to renew itself. You may unsubscribe at any time, however, to prevent the reoccurring charge, you must "cancel" before the renewal date. To do this, login to your PayPal account and select the cancel option.
About your password. Please allow up to 2 hours for your password. If not received in a timely manner, click to send reminder
FIND SOUTH CAROLINA ANCESTORS NOW!
South Caroliina Pioneers Databases