Fairfield County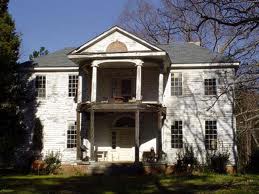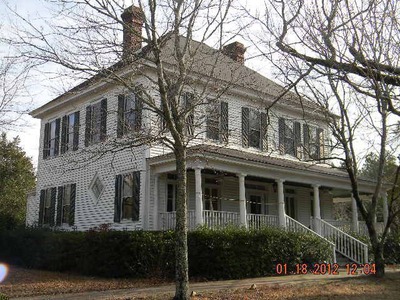 Pictured is Mayfair Plantation and Trenton, South Carolina. The county was formed in 1785 as part of Ninety Six District and Camden County; parts of Edgefield later went to form Aiken (1871), Saluda (1895), Greenwood (1897), and McCormick. The town of Winnsboro, which was settled around 1755, is the county seat. It was settled both by Scotch-Irish immigrants from northern colonies, and by English and French Huguenot cotton planters from the low country. In the colonial period this area was a center for the Regulator movement, which sought to bring law and order to the backcountry. During the Revolutionary War, Lord Cornwallis made his headquarters in Winnsboro from October 1780 to January 1781.
Early Settlers: Mobley, Killpatrick, Maple, Walker, Hendrix, Austin, Woodward, Williams, Sights, Gibson, Andrews, Thompson, Brown, McKinstry, Alston, Marple, McCaulley, Durham, Davis, McMorris, Martin, Bell , Minor Winn, James Robertson, Benjamin Cleveland, and others.
Wills and Estate Records Available to Members of
South Carolina Pioneers
Fairfield County Will Book A (abstracts)
Fairfield County Will Book 1: Transcripts (1787-1791)
Testators: Arledge, Moses; Beasley, Jacob; Belton, Sarah; Briggs, Frederick; Brown, Jacob; Carden, Larkin; Carledge, Isaac; Colfman, Charles; Dods, John; Fellows, Mathias; Graves, James; Hill, William; Hornsby, Leonard; Lewis, John; Lowe, Isaac; Marple, Thomas; McCreight, William; McMaster, Hugh; Miller, Alexander; Neal, Samuel; Owens, Thomas; Peay, George; Phillips, Robert; Robertson, Henry ; Rogers, John; Routledg, Thomas; Scott, George; Starns, Peter; Young, John
Fairfield County Will Book 2: Transcripts (1792-1795)
Testators: Aiken, Charles; Andrews, James; Andrews, John; Auston, Elizabeth; Bell, Thomas; Bennett, Sarah; Boney, Jacob; Brown, Robert; Burns, Dennis; Camron, Joseph; Cassity, Peter; Cockrel, Moses; Coleman, Robert; Colhoun, James; Colhoun, William; Collins, Moses; Cook, Esther; Cork, John; Dods, Joseph; Evans, David; Frazer, William; Funderburgh, Henry; Gamble, Hugh; Gamble, Samuel; Gibson, Jacob; Hardage, James; Hays, Mathew; Holles, Moses; Holmes, William; Hugeley, Henry; Johnson, James; Kirkland, Francis; Knighton, Moses; Lemley, Peter; Lewey, George; Littlejohn, Marcellas; Martin, George; McBride, Robert; McClurken, John; McColloch, John; McCreight, David; McDowell, Alexander; McFadden, Anne; McMullon, John; Mickle, Thomas; Neeley, Richard; Neely, Richard; Paul, James; Pettipool, Ephraim; Phillips, William; Porter, James; Robertson, Alexander; Robinson, Margaret ; Sanders, Nathan; Shaver, Philip; Waugh, Samuel; Whitted, William
Fairfield County Will Book 4: Transcripts (1800-1803)
Testators: Arskin, Peter; Austin, Elizabeth; Austin, James; Bell, George; Ewing, William; Henson, Bartlet; Husey, Isaac; Kincaid, James ; Lightner, John; Marple, Northrup; Miller, John; Mobley, Samuel; Morris, William; Paul, Arsbald; Richardson, Samuel; Robinson, James; Thompson, John; Walker, Henry; Woodward, Elizabeth; Woodward, Henry
Fairfield Will Book A (abstracts)
Index to Fairfield County Will Book 1 (1787-1791)
Index to Fairfield County Will Book 2 (1792-1795)
Index to Fairfield County Will Book 4 (1800-1803)
Index to Fairfield County Will Book 5 (1804-1805)
Index to Fairfield County Will Book 6 (1806-1807)
Index to Fairfield County Will Book 7 (1815-1816)
Index to Fairfield County Will Book 8 (1822-1823)
Index to Fairfield County Will Book 9 (1824-1829)
Index to Fairfield County Will Book 10 (1828-1829)
Index to Fairfield County Will Book 12 (1829-1830)
Index to Fairfield County Will Book 11 (1836-1837)
Index to Fairfield County Will Book 13 (1831-1833)
Index to Fairfield County Probate Records, 1787 to 1868, Surnames A to Z
"
Find your Ancestors on South Carolina Pioneers.net
-
Subscribe now for only $30.00 for 3 months!
"
FREE newsletter. Follow us via email ... use form below ... easy ...
Become a member of the Pioneer Families Community, and enjoy the benefits of a network of genealogy experts: including access to all eight websites, books written by renowned Georgia genealogist Jeannette Holland Austin, and personal help with your research for any family in GA, NC, SC, or VA. A full year of membership with all these benefits for less than $13 a month, compared with up to $45 a month at ancestry.com
GeorgiaPioneers.com
KentuckyPioneers.com
NorthCarolinaPioneers.com
SouthCarolinaPioneers.net
VirginiaPioneers.net
Genealogy-Books.com
GaGraduates.com (Graduates database from ca 1830 to 1925)
SoutheasternGenealogy.com (Digitized Wills in counties of: Carter 1794-1830; Jefferson 1802-1810;Johnson 1839-1900;Unicoi 1878-1887; Washington 1779-1800)
SAVE MONEY! Click on Annual Membership button - $150.00 for one year.
Subscribe