Winton County Probate Records available to members of South Carolina Pioneers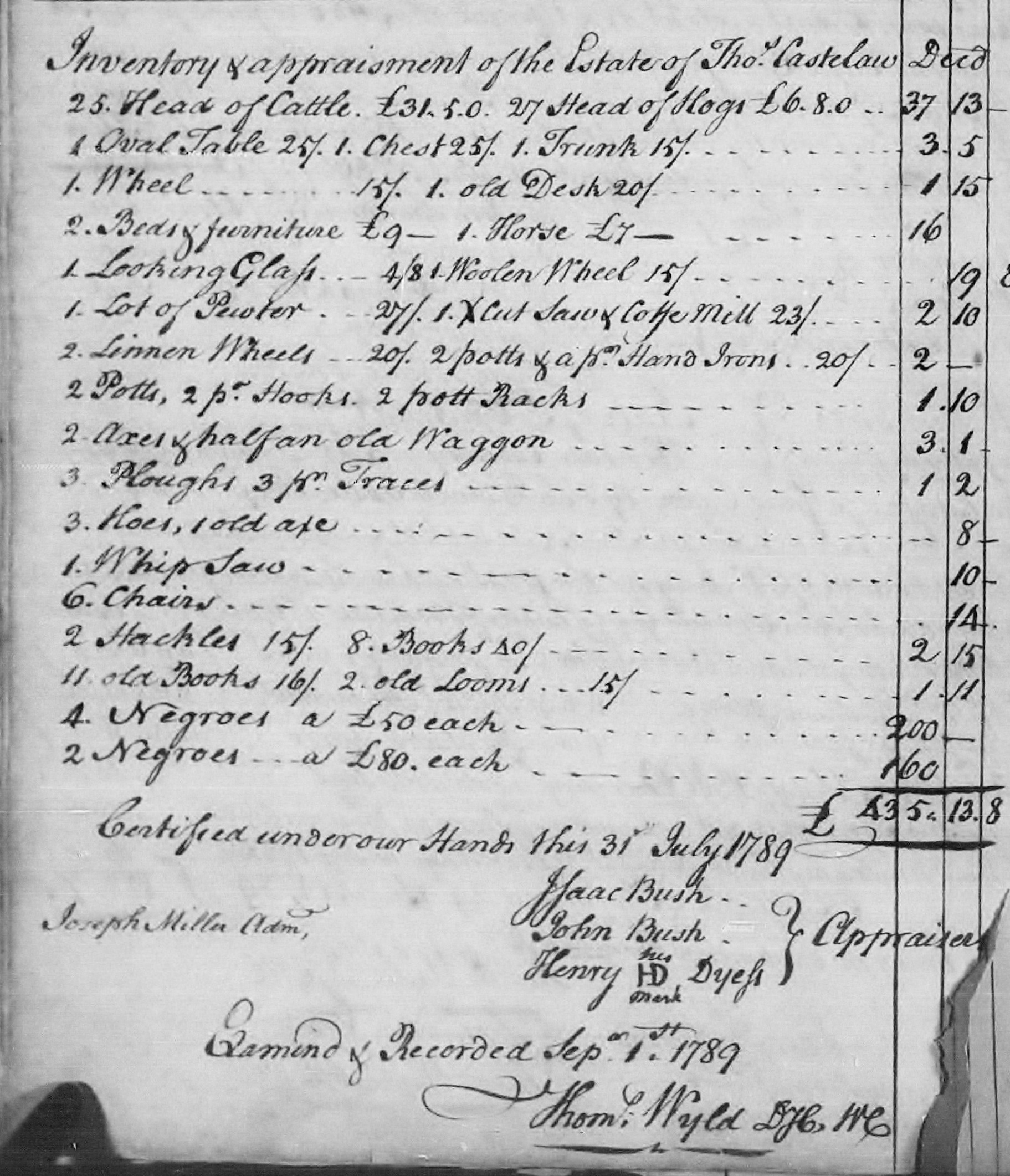 Pictured is the last will and testament of Thomas Castelaw. Winton County was created within the district of Orangeburg in 1785 and subsequently abolished in 1791. In 1730 Governor Robert Johnson formed
new townships
. The first one was Edisto and it was laid out to encourage emigration into the interior. In 1735, Edisto Township was renamed Orangeburgh Township by its German Lutheran settlers. In 1768, Orangeburgh Township and Amelia Township were included within the St. Matthew Parish and the Orangeburgh district. During 1778, Orangeburgh Township was separated from Amelia Township into its own Orange Parish and after the American Revolution ended, the parish was renamed Orangeburg District. The same Act created four newly-defined counties within the overarching Orangeburg District, viz: Lewisburg County, Lexington County, Orange County, and Winton County. Thus, in 1785, Winton County was formed as a judicial County within the Orangeburg District. Winton no longer had a separate court in 1791 and during the year of 1798 Winton was transformed into Barnwell County. The court records listed here are all that remains and comes from Book A of Barnwell County, South Carolina. Book B of Barnwell County also contains Winton County Wills.
Digital Images of Wills and Deeds 1787 to 1793
Abney, Nathaniel
Altman, Sarah
Anthony, John
Baxter, William
Bentley, Edmund
Bourdeaux, Daniel
Brooker, Joseph
Brooker, William and Unity (deed)
Brown, John
Brown, William
Casteloe, John
Castelaw, Thomas
Chapman, Mary
Collins, James
Collins, John
Collins, Nancy
Creetch, Richard
Crister, William
Croom, Major
Crossle, William
Disharoon, John
Dunbar, William
Edwards, David Sr. Everett, William
Feasters, Andrew
Filput, Thomas
Fryer, Mary to John Fryer
Galphin, John
Gillett, Aaron
Gillis, Elijah
Griffin, Sampson
Hankison, Robert
Hankinson, Robert from William Patterson
Hicks, Christopher
Johnson, Joseph
Jones, James
Joyner, Jeremiah
Kalsey, Silas to Sarah Wilson
Kimberhide, Martin
Lee, Robert
Lee, William
McKay, James
Messer, Mark
Miles, Thomas
Mitchell, John
Moon, Ann
Morris, Thomas
Morris, Thomas to Sarah Southwell (deed)
Natures, Joseph
Newman, Reuben to Alexander Newman
Odom, Isaac
Odom, Owen to John Stuart (deed)
Owens, Solomon to George Kersh (deed)
Perkins, John
Raines, John
Ratlif, Mark
Robison, William
Roundtree, Job
Saunders, Reuben
Simms, James
Singleton, Daniel
Southwell, Edward
Sterling, Isaac
Swicord, George
Swicort, Michael
Thomas, Gilsher
Toney, Benjamin
Turner, John
Wichly, John
Williams, Abigail
Williams, Nathan
Wood, John
Wyld, Thomas
FREE newsletter. Follow us via email ... use form below ... easy ...
Become a member of the Pioneer Families Community, and enjoy the benefits of a network of genealogy experts: including access to all eight websites, books written by renowned Georgia genealogist Jeannette Holland Austin, and personal help with your research for any family in GA, NC, SC, or VA. A full year of membership with all these benefits for less than $13 a month, compared with up to $45 a month at ancestry.com
GeorgiaPioneers.com
KentuckyPioneers.com
NorthCarolinaPioneers.com
SouthCarolinaPioneers.net
VirginiaPioneers.net
Genealogy-Books.com
GaGraduates.com (Graduates database from ca 1830 to 1925)
SoutheasternGenealogy.com (Digitized Wills in counties of: Carter 1794-1830; Jefferson 1802-1810;Johnson 1839-1900;Unicoi 1878-1887; Washington 1779-1800)
SAVE MONEY! Click on Annual Membership button - $150.00 for one year.
Subscribe