Edgefield County Wills and Records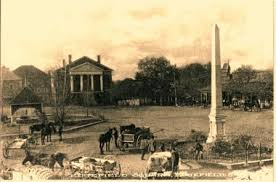 Edgefield, SC ca 1890
The county was formed in 1785 as part of Ninety Six District; parts of Edgefield later went to form Aiken (1871), Saluda (1895), Greenwood (1897), and McCormick (1916) counties. The county seat is the town of Edgefield. The northern part of the Ninety Six was previously inhabited by Cherokee Indians. The southern part adjoined the Savannah River and was used as hunting grounds by the Creeks, Savannahs and other tribes. Edgefield country was trafficked by white men who created a lucrative trade with the Indians for their buffalo and beaver skins and who exported as many as two hundred and fifty thousand skins a year from the state. It was not until 1748 that permanent settlements were made along the Savannah River. Families trickled in from England, Scotland, Ireland, Wales, Germany, Holland and France as well as from Pennsylvania, Maryland, Virginia and North Carolina. Others, forbidden to deal in slavery, fled from Georgia to make their plantations along the Savannah River. The first Scotch families settled on the Saluda side of Edgefield south of Chappells Ferry. The site was located near a hill where large chestnut trees grew. Later, the Baptist Church of Chestnut Hill was later organized and built. They called the settlement Scotland. Among the first Scots was Joseph Culbreath, born near Plymouth Scotland in 1747, who was brought to Edgefield by his father, Edward Culbreath in 1756. The father died a year later, leaving his sons, Joseph, John, Daniel and Edward. The sons all lived to be over the ages of 70. The family of Harry Hazel came with the Culbreaths to the new country. In 1770 a ferry was established over the Saluda River on the land of Robert Cunningham and another one over the Savannah River, opposite to Augusta in Georgia. Edgefield was the site of several Revolutionary War skirmishes and was defended by those who had settled from North Carolina and Virginia. One such family was that of William Abney who had settled about a mile or so from Scotland in 1772. Nathaniel Abney served as a captain of a militia company under Major Andrew Williamson at Ninety Six. Opposing the patriots was the Stewart family whose homestead was located on Tosty Creek on the Saluda.
Early settlers: Peter Finson, Francis W. Pickens, Benjamin Tilman, General Martin Witherspoon Cary, Allen Bailey, Nathan Melton, William Daniel, William Tobler, Spencer Hawes, George Miller, Jeremiah Lamar, Robert Gardner, David Pitts, Arthur Watson, Nathaniel Abney, Jesse Griffin, George Bender, Michael Burkhalter, Thomas Spraggins, Mathew Devore, Allen Burton, George Kyser, Nathaniel Bacon, Wright Nicholson, Joseph McGinnis, John Oliphant, John Blalock, Benjamin Buzbie, Robert Jennings, Jessy Rountree, Amos Richardson, Hezekiah Gentry, Benjamin Hightower, Thomas turk, Stephen Garrett and others.
Edgefield county Records Available to Members of South Carolina Pioneers
Edgefield County Wills, Bks A, B and C, 1775-1835 (abstracts)
Index to Edgefield County Will Book D, 1836-1853
1817 Map of Edgefield County
Miscellaneous Edgefield County Wills, Deeds, etc. (Images and Transcripts)
Adams, John (LWT) 1823
Adams, John Deed to William McDaniel (1816)
Adams, John Deed to Joel McLemore (1819)
Adams, John Deed to Henry Anderson
Adams, John Deed to John Hinson(1824)
Ballentine, Hugh, 1809 Promise
Bolger, Elizabeth
Bush, Isaac
Cary, William
Ferguson, William
Garrett, Edward
Hagens, William
Hamilton, William
Hammond, Charles Sr.
Mims, Beheatherland
Mock, George Sr., LWT (1790)
Morgan, Evan
Neyle, Daniel, 1750 Land Grant
Ramage, James
Richardson, Jefferson
Savage, John Land Grant, originally the Land Grant of Benjamin Harris
Self, Daniel
Strum, Henry Bond to Jeremiah Burnet of Liberty County, Georgia
Sullivan, Pressly
Swearington, Van
Tate, Henry
Williams, Roger
Youngblood, Mary
Follow us by Email. Just add your Email below
FREE newsletter. Follow us via email ... use form below ... easy ...
Become a member of the Pioneer Families Community, and enjoy the benefits of a network of genealogy experts: including access to all eight websites, books written by renowned Georgia genealogist Jeannette Holland Austin, and personal help with your research for any family in GA, NC, SC, or VA. A full year of membership with all these benefits for less than $13 a month, compared with up to $45 a month at ancestry.com
GeorgiaPioneers.com
KentuckyPioneers.com
NorthCarolinaPioneers.com
SouthCarolinaPioneers.net
VirginiaPioneers.net
Genealogy-Books.com
GaGraduates.com (Graduates database from ca 1830 to 1925)
SoutheasternGenealogy.com (Digitized Wills in counties of: Carter 1794-1830; Jefferson 1802-1810;Johnson 1839-1900;Unicoi 1878-1887; Washington 1779-1800)
SAVE MONEY! Click on Annual Membership button - $150.00 for one year.
Subscribe